Breakfast for the children is such an important moment, this cheerful placemat will make it even more special. Safe for children because it's non-slip and practical for mothers, a sponge wipe will be enough to clean it!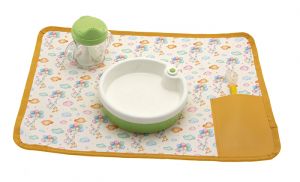 Materials:
240054-09 leatherette fabric 50x70cm bunnies/balloons 50×37 cm
240204-004 plain weave h.180cm mustard 50×37 cm
240056-764 leatherette fabric 50x70cm grapefruit 12×16 cm (pocket)
380918-75 rips tape 25mm 20m gold 2 m
G788988-300 sewing ( 100mx5)
Tools:
Needle, sewing machine, glass, pencil, scissors, pins.
Cut from both the leatherette fabric rabbits/balloons and the mustard fabric a rectangle of 50x37cm. From the plain leatherette fabric cut a pocket of 12x16cm. For the border cut 2m of rips tape. Round the corners of the placemat by placing the glass on the reverse side of the leatherette fabric and mark with a pencil. Cut out the corners of the leatherette.
Overlap the leatherette fabric over the plain dyed fabric by matching the edges and basting. Cut the excess fabric. Fix the pocket with the pins on the placemat and baste. Sew the inside of the pocket. Baste the rips border on the placemat by matching 1.25 cm of the upper part and 1.25 cm with the lower one. Near the corners make some folds keeping the fabric soft. Sew with the sewing machine or by hand.