If you are looking for a tender and spring-like decoration, but at the same time flamboyant and impressive, we have the video for you! Make this beautiful felt house with hearts and a cute bird with us! Print out our pattern to make it even easier and let your creativity run wild!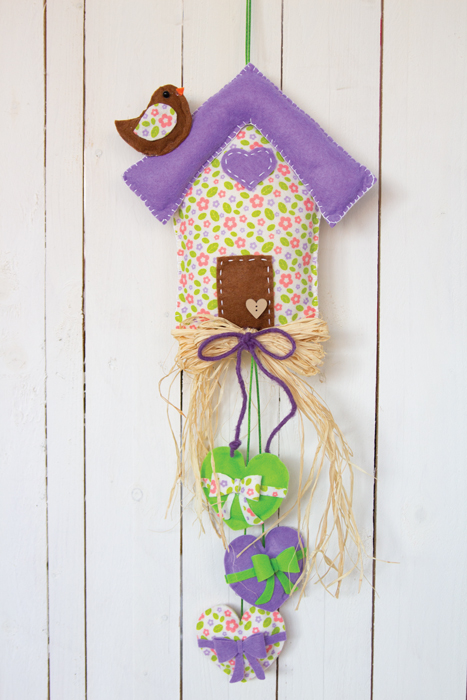 Materials:
felt 1mm 30x40cm spring offwhite, lilac art. 250159-253 2p
felt 1mm 20x30cm wisteria art. 5306-43 1p
felt 1mm 20x30cm orange art.5306-7
felt 1mm 20x30cm neongreen art.5306-63
felt 1mm 20x30cm brown art.5306-4
raffia SB50g natural art. 543-16
smart felt wire 3mm pastel green art. 745325-27 cm50
wooden beads Ø 6mm SB125 black art. 831-97
heart buttons Ø 1,8cm SB36 natural wood art. 8460-641
cotton cord 351804-80 cm160
mouline profilo white268817-407
cushioning cotton 200g art. 799-05
Tools:
needle, scissors, hot melt glue gun art. 600-80, glue sticks high temp. SB6 art. 6000-031, big shot white & grey machine art. SX-660200, bigz stafil exclusive heart with bow SX-663301, tweezer sb/1pz art. 9450-031.
sewing stitches used:
blanket stitch and back Stitch