With our Pouring Medium you can create pictures quickly and easily. The medium mixed with acrylic colors and water results in a creamy consistency. Together with our vegan leather, the picture is a real highlight.
Watch the video below and let your creative casting technique run wild.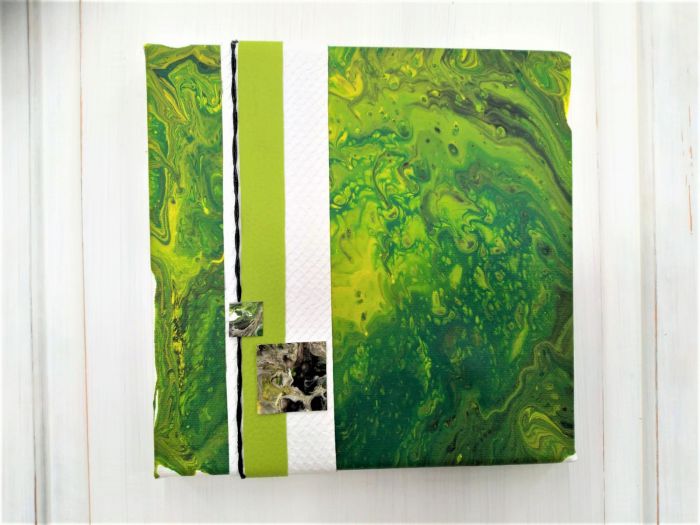 Materials:
6000-93 Stafil Pouring Medium, 1 Stk
9901-04 Stretcher 20x20cm, 1 pcs
various acrylic colors, yellow, light green, dark green, black
240066-473 Faux leather fabric white, 26 x 5 cm
240056-539 Artificial leather kiwi, 26 x 2 cm
7424-15 Wax band 1mm black, ca. 50 cm
Tools:
Mug for mixing the colors, wooden spatula, pins, possibly gloves, pad, paper.
Mix a portion of Pouring Medium with 3 parts of acrylic paint, stir well. Add so much water until a creamy consistency is achieved. For the two small parts of the picture, part of the mixed pouring ink is poured onto paper – dried, cut to size (1.5 x 1.5 cm, 3 x 3 cm) and then onto the finished image together with the vegan leather strips and the string appropriate.