Are you looking for a high quality upholstery for your sofa?
SEARCHED – FOUND
With our double-sided synthetic suede you have found a brilliant possibility. The two-tone appearance guarantees the variety of colors. Have fun sewing and drawing.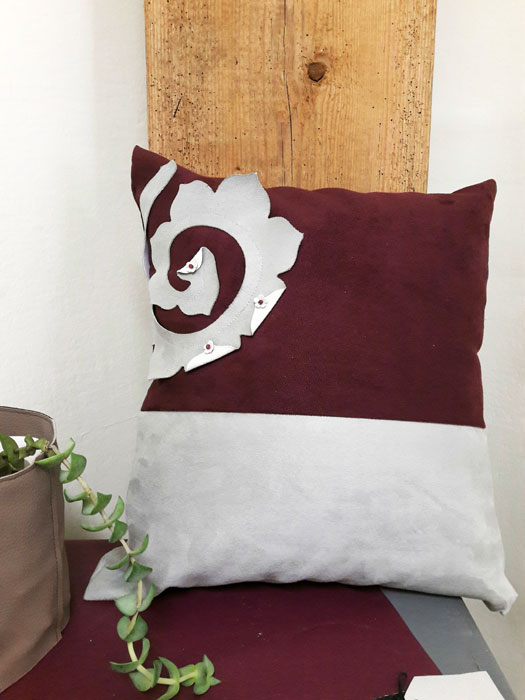 Materials:
799-01 Padding 40 x 40 cm, 1 Stk
240068-06 Faux leather fabric 50 x 70 cm purple / purple, 1 Stk
240068-01 Faux leather fabric 50 x 70 cm light gray / white, 1 Stk
335700- * Buttons 2 Stk
119908- * Fettuccia, approx. 26 cm
7424- * div. Leather flowers, approx. 3 Stk
8136- * div. Pearls, approx. 3 Stk
SX-661984 Die-cut pink 3-D, 1 Stk
Tools:
Sewing machine, thread, needlepoint sewing needle, thimble, scissors, Big Shot Pro

Instructions – Hotel lockable upholstery:
The shape of the flower is sewn from the gray / white chamois leather. Cut the bordeaux suede leather 40 x 60 cm + 1 cm seam allowance and the gray / white suede 40 x 44 cm + 1 cm seam allowance. Sew the two blanks together on the left side (white side or lighter burgundy side) in width. For button loops every 13 cm (depending on the size of the buttons), sew the ribbon on two rings. Fold the gray / white part outwards so that 3 cm of the white side is visible and cover the prefabricated loops on the left side and sew them together.
Sew on the flower drilled near the transition between the two parts sewn on the burgundy side 2-3 tips of slightly folded flowers and hand sew with flowers and leather beads.
Fold the leather part on the left side in padding and sew the side pieces, cut the seam allowance at 4 corners diagonally. Turn outwards – sew on the buttons – and finish with filling the cushion.
TIP: For a custom cushion, you can sew your own pillow decorations yourself.