Rattan Vienna and rattan squares are two wonderful natural materials, which are excellent for making decorations, jewellery, bags and furniture. In this blog you can get inspired what can be created with them.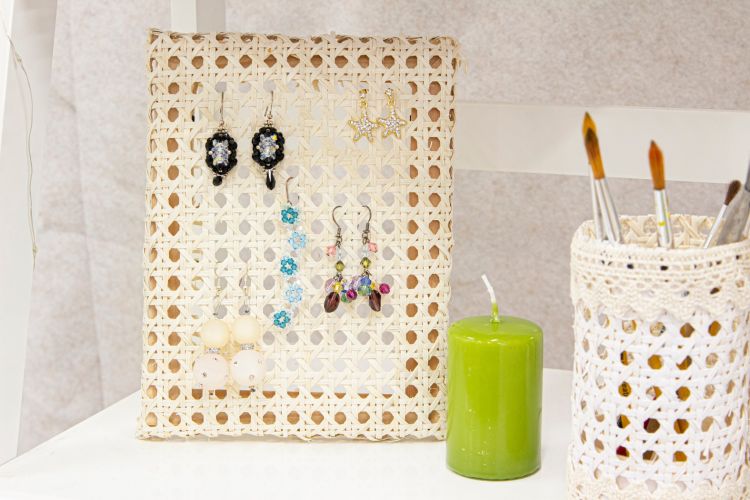 Material:
For the  Earring holder:
870-1 Rattan Vienna, 1 pcs.
8630-91 photo frame, 1 pcs.
For the box:
862-17 Plywood box, 1 pcs.
742000-1 Acrylpaint, white, 1 pcs.
870-2 Rattan squares, 1 pcs.
For the Clock:
43695-28 Flowers Dry Look, 2 pcs.
8632-01 Woodendisc with hole, 1 pcs.
760-12 Uhrwerk, 1 pcs.
870-1 Rattan Vienna, 1 pcs.
For the brush holder:
862-08 Plywood box, 1 pcs.
430429-401 Lace
870-1 Rattan Vienna, 1pcs.
742000-1 Acrylpain, white, 1 pcs.
Tools:
Scissors, hot glue gun, wooden tracker
Method:
Earring holder: Loosen the glass from the photo frame and span the frame with the Rattan Vienna. Staple this to the back edge with a wood tacker.
Box: Paint the plywood box and the rattan white, cut the rattan into the shape of a heart and cut also a strip that goes from the bottom of the box to the top of the lid. Glue the rattan to the box with a hot glue gun, as in the picture.
Clock: Cut the Rattan Vienna into the shape of the wooden disc, which serves as the base of the clockand glue it to the wooden disc with the hot glue gun. Also cut out a small circle for the pendulum of the clock. Decorate the clock with artificial flowers as you like. Assemble the clockwork according to the instructions.
Brush holder: Use the lower part of the plywood box as a base for the brush holder. Cut a strip of Rattan Vienna, which should be wide enough to go around the box and as high as the brush holder should be. Glue the ends together with the hot glue gun and decorate the upper and lower edge of the brush holder with a lace border.