Our printed leatherette fabrics will allow you to create a beautiful bag. With its bright and modern colours it will satisfy the most demanding tastes by adding an edge to your style.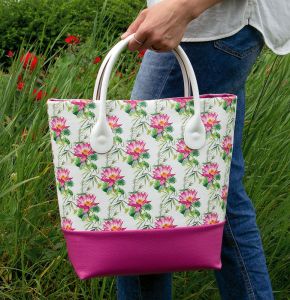 Materials:
240054-01 leatherette fabric 50x70cm white, water lilies – 40,5x26cm 2 pcs.
250056-477 leatherette fabric 140cm 460g/m² lilac 41 cm.
335951-101 handle bag c.vite 52×2 cm white 2pcs.
250098-1 net for bags h.100 cm 10x10mm, white 35cm.
316677-1423 seralon 100 100m x5
7424-001 cord. waxed cotton, 5m 1mm, white 1 pc.
Tools:
Scissors, needle, awl, sewing machine, pins, tape measure.
Cut out two rectangles of 40,5×26 cm from the waterlilies leatherette fabric. and another rectangle of 40,5×32 cm from the plain leatherette fabric. Baste and sew the three parts together. Fold in half and sew on both sides. From the lilac fabric, cut out the lining by cutting a rectangle of 40×82 cm. Make the inner pocket to sew to the lining by cutting a rectangle of 15×14 cm. 12 cm from the upper edge and 12.5 cm from the side. Fold the lining in half, baste and sew one side of the lining whole and the other only at the base for about 10/12cm.
Make the depth of the bag by drawing with a pencil, at the base of both sides, two squares measuring 6x6cm. Cut out carefully and widen the opening. Baste and sew. Insert the lining into the bag straight with straight. Assemble the two parts with the pins, basting and sewing.
Cut out a rectangle of 78×33 squares from the heat-sealed mesh, checking that the length of the mesh corresponds to the size of the bag. Trim the edge of the net.  Weld the net by overlapping a box and fasten it with the waxed cord. Insert the net passing through the lining and make it adhere well to the bottom of the water lily fabric. Sew the opening with hidden stitches.
Make the lining adhere well to the bag base. Fix the bag edge to the net using clips. Make the holes for the handles 7 cm from the edge and 11 cm from the side with an awl. If necessary, widen the hole with the tip of the scissors. Insert the handles and screw them in.