The shrink film technique is astonishingly easy and fast. This beautiful Easter egg was decorated with a shrink film in an Easter motive and structure paste. In this blog article you can see how to create this Easter decoration.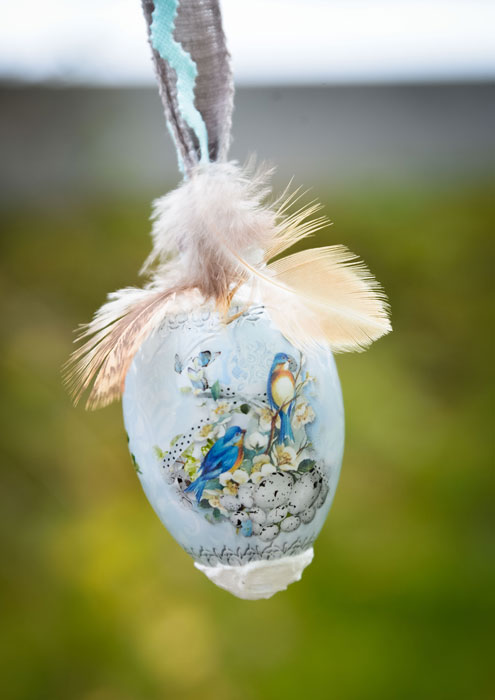 Materials:
360-50 Egg transp. 60 mm, 1 piece
9400-16 Shrink film Easter II height approx. 6 cm, 1 pcs
8000-14 Modeling paste 330 g white
781-89 Feathers brown, 2 pcs
6145-54 Ribbon Experience 10 mm water, about 50 cm
6145-92 Ribbon linen 15 mm sandstone, ca. 50 cm

Tools:
Pot, 80 ° hot water, tongs (Grillzange zum Eintauchen des Eies ins heiße Wasser), Spachtel, Heißkleber, Schere
Position the shrink film on the egg. Dip the egg with the tongs into the 80 ° C water for a few seconds (until the foil has wrapped around the egg).
Let it dry. Apply the modeling clay to the upper or lower part of the egg with the spatula. Let it dry. Decorate with ribbons and feathers.
Porcelain, glass, wood and styrofoam can also be used with the shrink film. The styrofoam acts a bit bloated when immersed in the 80 ° hot water, but this settles after cooling again.